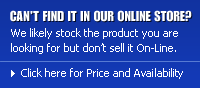 Ballasts
Beck Electric Supply carries an extensive selection of energy efficient
ballasts for both your fluorescent and HID lamp applications.




Fluorescent Ballasts - High frequency electronic ballasts are more energy efficient and allow the user more versatility than ever before. Todays high efficiency ballasts make it possible to reduce energy consumption without sacrificing light output. Sophisticated electronics make it easier to start lamps and ensure proper operating conditions. Most ballasts have parallel wiring for easy lamp maintenance and built in leads for easy retrofitting.

Reduced harmonics ballasts
Low wattage ballasts
High performance ballasts
Dimming ballasts

HID Ballasts - Available in easy-to-use replacement kits for the range of Metal Halide, High Pressure Sodium and Mercury Vapor lamps. These ballast kits help to eliminate the hassles of identifying what parts are required for a replacement or upgrade. most kits are multi-tap styles for 120, 208, 240 and 277V applications.
No products have been assigned to this category.

Back