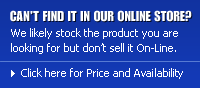 General Electric Information

Beck Electric Supply has been a G.E. Drive Systems distributor for 20 years. We stock Genuine G.E. Drives Parts at our Richmond Facility. We are committed to selling G.E. parts on a New or Exchange basis, please call our sales staff for details regarding your needs.


Keeping your operation up and running depends on many factors, including the quality and reliability of your stocked spare parts. Insist on genuine G.E. Drives Parts and Repair Services for the Best Performance from your G.E. Drive Systems Equipment.


G.E. Drive Systems Parts give you the uptime advantage. They work as expected; Are stocked as you need them; and are repaired to as new standards. No other vendor or fix-it shop has better resources to keep your G.E. Drive Systems Equipment in top operating condition.


Only G.E Drive Systems offers comprehensive parts documentation, technology upgrades on all repairs, proprietary test procedures, rigorous quality standards, plus the most comprehensive technologically advanced facility for parts manufacturing and testing.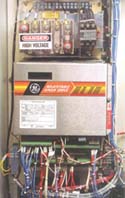 Board Options — New
Genuine GE quality
Extensive Distribution Network
24x7x365 emergency response capabilities
12/18 month factory warranty
Board Options — Remanufactured
(Lower cost alternative to purchasing new parts)
This option is great if you don't have a defective unit for return. The remanufactured part is significantly discounted compared to a new part. Remanufactured units are fully reconditioned, tested, repackaged and carry an 18 month warranty on the entire unit.
Over 500 part numbers
Full 18 month warranty on entire board
Immediate shipment
No need to return defective core
24x7x365 emergency response capabilities
Repair & Return
(Most cost effective repair option)
This is a great option when your board or devise is determined to be in repairable condition. Capabilities for over 17,000 part numbers.
Full 18 month warranty (entire board)
Repaired to same revision level as received
10 day lead time
Expedited repair service available
Dynamic testing on many circuit board designs
Comprehensive test results provided for each repair
Exchange
(Fastest method for receiving a reconditioned board)
GE will supply a refurbished part from the factory Exchange pool. This alternative provides a cost effective method to obtain a replacement part quickly. The defective board is returned to GE for repair and will be placed into the Exchange pool to serve the needs of a future customer.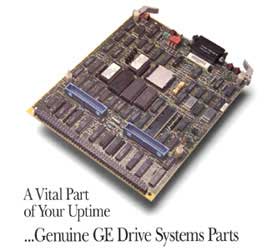 Immediate shipment
Over 1,000 part numbers
Full 18 month warranty on entire board
Receive same or higher revision level as returned
24x7x365 Emergency response capabilities
Diagnostic test equipment certified to national standards
Test & Certification
(Affordable option for verifying your inventory)
This option is ideal for customers who may have circuit boards used for troubleshooting and can't assess the condition of the boards. This is also a great option for anyone who may have spares inventory that is old and needs validation.
Lowest price solution
Test and Inspection identical to repair & return option
Board certified as operating within specification
Testing performed by same GE business that designed & manufactured the parts
Testing utilizes original factory designs, manufacturing and test fixtures
No products have been assigned to this category.

Back