About Us
Beck Electric Supply has been serving the electrical needs of our customers for over 30 years. We specialize in Marine, Industrial and Entertainment electrical supplies and are happy to be stocking distributors for some of the most highly regarded electrical manufacturers in the industry. Our three West Coast facilities each stock over 10,000 electrical products specifically tailored to your needs. Our diverse product lines and volume buying power ensure that you always receive a quality product at a fair price.
The Beck Electric Supply sales staff is well trained and eager to help source your hard to find or obsolete electrical items. We have always enjoyed a reputation for the finest electrical apparatus, extraordinary service and business integrity.
We value the needs of our customers and business associates beyond anything else, and will do everything possible to treat you in an honest and upfront manner. Please feel free to contact any of our branch offices if you ever have a question regarding any of our product lines or a special parts request.
Beck Electric Supply - Richmond, California
Beck Electric Supply has a long history in the Maritime electrical arena. Prior to becoming incorporated under our current name we were the maritime sales division of Dahl-Beck Electric. In the early days our customer base consisted of the shipping lines, port facilities and naval bases located in the greater San Francisco Bay Area.

On 1/1/1975 we broke our Dahl-Beck Electric affiliation and became Beck Electric Supply. This move enabled us to operate as a separate autonomous entity and commit all our attention to our broadening customer base. We continued to operate as a specialty marine electrical distributor in San Francisco until 1981 when we moved our business across the bay to Emeryville. This new larger property enabled us to service the bustling Port of Oakland and the expanding business opportunities in the region.
After many years of business activity, we once again find ourselves under the same roof as our parent company Dahl-Beck Electric, where we operate within an even larger 53,000 square ft. and more efficient facility in Richmond California.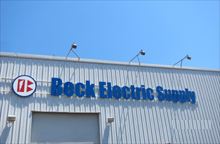 Over the years we have become franchised stocking distributors for many Maritime, Industrial and Entertainment electrical lines. We stock more specialty maritime electrical lines than anyone in the country. Beck Electric Supply has made several business acquisitions in recent years which truly solidifies our position in this Industry.
Currently we are a third generation family owned and operated business enterprise with active principals in all Beck Industry companies. We have been leaders in our industry for more than 30 years and have always enjoyed a reputation for the finest service and electrical products. Our commitment to a high moral standard has never misguided us personally or professionally. We believe in an honest up-front approach with our valued customers and business associates.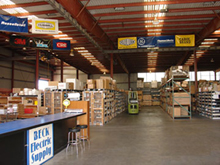 Please don't hesitate to call and ask for Bill, Ray, Roger or Ron Beck if you ever have a special request, concern or complaint.
We hope you take a few moments and look at our website to further inform yourself on the wide array of specialty items and manufacturers we are proud to represent.
---
Beck Electric Supply - Seattle, Washington
With the continued success of our California branch we decided that the Seattle / Tacoma area of Washington was the next logical location for a Beck Electric Supply branch office. In 1979 this vision became a reality as we moved inventory and key personnel to the Northwest.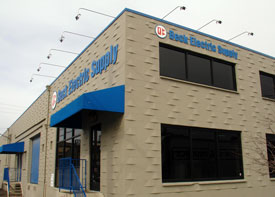 After leasing office and warehouse space for 31 years in the South Park area of Seattle, we recently purchased and renovated a building approximately one mile South of the ballparks. Our move was completed on March 1st 2011... we are enjoying our new home and the close proximity to our Port of Seattle customer base.
The current Beck Electric Supply Seattle management team is more experienced in marine electrical intricacies than any other we are aware of. Our technical knowledge and commitment to customer satisfaction has always been a top priority. Mike Donohoe, Kevin Roundtree and Ron Beck are the generating force behind the business opportunities we have embraced in recent years. Under the current management team the future looks extremely bright for our Northwest contingent.
We have spent considerable time and effort in molding our inventory to fit the needs of our unique maritime customers. Our goal has always been to get you the product before you need it. Our tremendous product knowledge, catalog library and lightning fast T-1 internet connection assure you the fastest service possible.
We are currently the primary Northwest marine electrical supplier for the Navy, local shipyards, container vessel fleet, tanker fleet, fishing industry and the Alaska Marine Highway System in the Northwest region.
---
Beck Electric Supply - Long Beach, California
Beck Electric Supply acquired Harbor Ship Electric of Wilmington, California on July 1, 2004.
Harbor Ship Electric has been a Port of Los Angeles fixture since 1951. We are pleased to be joining forces with a local pillar in the maritime electrical community. We are confident that this acquisition will benefit our customers with access to more product lines, better technical assistance and a larger local inventory. Harbor Ship Electric has a long history of refined customer service and a devoted customer base. The Beck Electric Supply sales team is eager to carry on this tradition of excellence and assist with all sales and service related inquiries.
Beck Electric Supply had been looking into expansion possibilities in the Southern California area for many years and couldn't pass up the opportunity to purchase Harbor Ship Electric when it presented itself. Beck Electric Supply now has three West Coast locations to serve our growing customer base.
After leasing office and warehouse space in Wilmington, California for many years. Beck Electric Supply recently purchased a building in Long Beach, California. We have taken our time with the remodeling of the facility and developed a plan which optimizes our office and warehouse efficiencies. In January 2012 we moved our Southern California branch to this larger and very visible location on Harbor Avenue. We are excited about our new home perfectly located just a few blocks from the Port of Los Angeles. The new Beck Electric Supply is not only a breeze to find, but parking is also always available in our own private parking lot.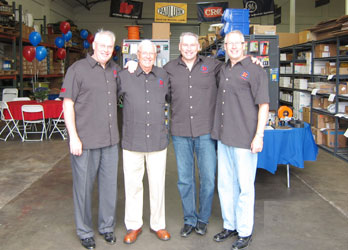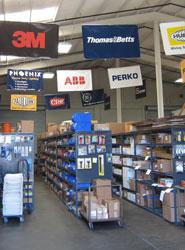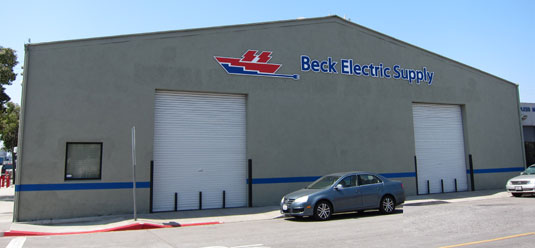 ---
Beck Electric Supply – Crestview, Florida

The implementation of a strong business plan and a seasoned maritime staff are two elements that make our new Southeast / Gulf business venture an encouraging one.

Beck Electric Supply has been focused on the Pacific Coast Maritime market for over 30 years …. This seemed like the next logical step due to the magnitude of maritime business in the Southeast / Gulf region.

Our new Regional Sales Manager Todd Henkes has an extensive maritime background which includes the US Navy, Gulf shipyards, salvage operations and small business ownership. His technical expertise sets him apart from the competition and we know that he will work tirelessly on behalf of his customers.

O

ur Southeast operation offers a full line of marine electrical products and the most competitive pricing in the industry. Our unique maritime niche has made us the premier marine electrical supplier on the West Coast and we are excited about building strong relationships with our new Southeast customers.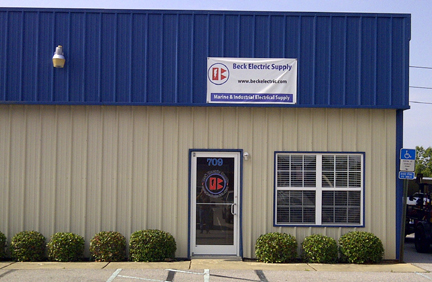 ---

Back