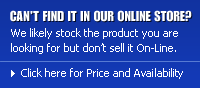 Chemicals & Lubricants
For 35 Years CRC Industries has manufactured the most comprehensive line of electrical maintenance chemicals on the market. CRC has a quality product to meet most maintenance and repair applications. CRC's dedication to leadership in the maintenance chemical market is reflected in its product development. CRC continues to introduce innovative new products to meet the needs of industry. CRC has a patented Material Safety Data Label (MSDL), vital safety information is available on the most convenient place, right on the label.

Beck Electric Supply has many CRC products right on the shelf, ready for shipment to you. Our sales staff is eager to quote you a competitive price and answer any questions you may have.

Cleaners and Degreasers — CRC Cleaners and Degreasers cut through dirt, grease and grime to improve critical connections and enhance overall performance.

Lectra Clean
Lectra Clean II
Electrical Parts Cleaner
Fast Dry Degreaser
Complex Blue
Co Contact Cleaner
Contact Cleaner 2000
QD Contact Cleaner
HF Contact Cleaner

Electronic Degreaser
PF Precision Cleaner
Duster
Cable Clean
Cable Clean RD (Rapid Dry)
Cable Clean NP (Natural Pine)
Cable Clean HF (High Flash)
Brake Clean & Degreaser

Lubricants — Formulas to Lubricate, and protect electronic equipment, parts, tools, and machinery.

2-26
Electrical Grade Silicone
Stor & Lube
Cutting Oil
Wire Pulling Lubricant with teflon

Corrosion Inhibitors — CRC corrosion inhibitors and coating make it easy to protect parts and equipment from the long term damage of oxidation and other chemical reactions. Lectra Shield

Stor & Lube
Zinc-It
Urethane Seal Coats

Adhesive Sealants — CRC offers a full line of silicone based compounds for long lasting protection against air and liquid penetration.

RTV Silicone (Clear, White, Blue, Gray, Red)
CRC's revolutionary pressurized package provides a convenient waste free alternative to messy caulking tubes.
Dispenses a consistent uniform bead
Pressurized package keeps silicone fresh, won't dry out like others
Pull out self sealing plug to re-use
Minute Mend
Stops and prevents corrosion and rust or your money back, 100% money back guarantee. Use Corrosion X where you want corrosion control a messy wax coating. A light spray of Corrosion X on power heads, generator sets, and engines two or three times a year will help them last longer and look better (even in saltwater conditions). Corrosion X is truly a multi-functional product. In addition to its corrosion fighting properties, it is also a super lubricant and penetrant. Corrosion X lubricates under heavy loads and high temperatures. Use it on shelves, hinges, locks, and cables/ wire ropes. If corroded or rusted nuts, bolts, or fittings is a problem, they usually can be removed using Corrosion X as a penetrant.

Corrosion X Heavy Duty is for super long term protection against serious rust and corrosion assault. This is a high performance, thick film version of regular Corrosion X. This product forms a dripless, dynamic, non-hardening,self healing film that stubbornly resists erosion by splash, spray, including complete submersion is saltwater. Corrosion X HD slowly
penetrates existing rust and corrosion, removes moisture and stops electrolysis.
No products have been assigned to this category.

Back