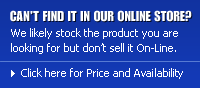 Crane Parts & Components
Beck Electric Supply has been the primary marine electrical distributor on the West Coast since the early 1970's. Our reputation has been built on our business integrity, supreme service and our specialized product lines.


The terminal container cranes at our West Coast ports are vital to our nation's economy, and we are proud to play a small roll in keeping them supplied with the necessary parts.


Over the years, Beck Electric Supply has become franchised stocking distributors for many of the electrical product lines that are imperative to the operation of these cranes.


Each of our three West Coast facilities has experienced personnel who are very familiar with the braking, drive, control and lighting systems unique to your equipment. We are just minutes away from the Port of Seattle, Tacoma, Oakland, Los Angeles and Long Beach and can meet you there anytime to take a closer look at your particular problem. Our three decades of experience has given us considerable expertise with Terminal Cranes, Transtainers and RTG's and we stock many of the necessary parts that you require on a daily basis.


Beck Electric Supply is interested in total order fulfillment and wants to make sure you get the right product at the right price in a timely manner.


Our Shop Online web section only has a few of the crane components that we stock. Please call if you do not see the product you are looking for and our experienced sales staff will gladly check our full inventory and give you a very competitive price.









Browse these categories under "Crane Parts & Components"