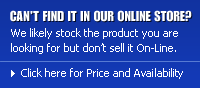 Circuit Breaker Information

Beck Electric Supply has been a wholesale supplier of circuit breakers, control components, contactors, starters, transformers and safety switches since the early 1970's. We have built our reputation primarily supplying GE electrical components but have been franchised for many additional lines over the years.

We are proud to be franchised stocking distributors for GE, Cutler-Hammer and ABB. Our 3 decades of experience has given us considerable expertise with circuit breakers and other electrical components.

Beck Electric Supply is the primary marine electrical distributor on the West Coast. We pride ourselves on sourcing your old and obsolete circuit breakers and components. Our close affiliation throughout the Pacific Rim with the US Navy has made us a valuable source when it comes to Navy breakers and other Navy specific electrical items. Our sales staff works closely with the Navy and commercial vessels on the West Coast, and is frequently asked to come aboard in order to take a closer look at a troubling component or problem.

We are equipped at each of our facilities with GE software (Speedi-Win) and Cutler-Hammer software (Bid Manager) to accurately quote your panelboard requirements.

Beck Electric Supply is interested in total order fulfillment and wants to make sure you get the right product at the right price in a timely manner.

Our Shop Online web section only has a few of the Circuit Breakers that we stock. Please call if you do not see the product you are looking for and our experienced sales staff will gladly check our full inventory and give you a very competitive price.
No products have been assigned to this category.

Back