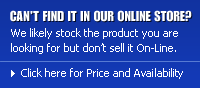 Marine

Beck Electric Supply has always been primarily a marine electrical supply house. Our roots are firmly embedded in the docks at the Port of San Francisco where we made a name for ourselves nearly 40 years ago. In order to support the West Coast maritime market, we have aligned ourselves with many of the finest specialty marine electrical manufacturers.


Our Shop Online web section only has a few of the marine receptacles and outlets that we stock. Please call if you do not see the product you are looking for and our experienced sales staff will gladly check our full inventory and give you a very competitive price.
Browse these categories under "Marine"