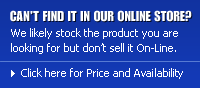 Sealing Systems & Firestop
Beck Electric Supply has three stores on the West Coast. We have been a primary electrical supplier to the maritime industry on the west coast for over 30 years. We currently hold several electrical contracts with large shipping lines which operate on the West Coast.


Our product lines and inventory have always been centered around the demands of these customers. We are proud to carry a lot of specialized lines which meet the unique characteristics and environments of our customers.




No products have been assigned to this category.

Back