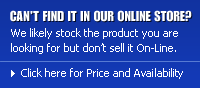 Russellstoll Connectors Information

Computer System Plugs, Connectors & Receptacles
Over 30 years ago, Russellstoll offered the first pin and sleeve plugs that met the demanding needs of the data processing industry. The expanding technology of the computer industry is creating more sophisticated applications which require safe reliable connections. Pin and Sleeve power connections are chosen for computer interconnections because of the absolute performance required in todayâ€â"¢s main frame and peripheral installations. Pin and Sleeve connections have proven to be 10 times more reliable in service than any bladed device. Our Shop Online web section only has a few of the Russellstoll plugs that we stock. Please call if you do not see the product you are looking for and our experienced sales staff will gladly check our full inventory and give you a very competitive price.


Duragard To 4P4W 20Amp thru 50Amp
The toughest construction in thermoplastic safety, durability and performance by design, in UL94-VO flame rated DuraV material. With DurOring sealed pins, sleeves, and interiors watertight even unmated. A 30 & 50Amp unique circuit breaker interlock line in DuraV is the best choice in all standard voltage polarization options through 600VAC (interlock to 480VAC)


Specgrade to 4P4W 20Amp and 30Amp
Otherwise similar to the Duragard, specgrade refers to blue lexan plugs made to the same original FS/FD design standards as Duragard, in UL94-5VA flame rated material. Specgrade features DurOring sealed pins, sleeves and interiors, watertight even unmated. Spec grade devices have been superceded by Duragard ratings for OEM use.


FS/FD to 3P4W 15Amp thru 30Amp
The original 15/20/30A computer system connectors, the FS/FD line in aluminum continues in MRO usage. Many installations can also mate or convert to Duragard units. Our large installed base can be supported with any construction and product options. Convert to Duragard when possible.


Angle Type to 3P4W 60Amp use
The original 60A main power computer system connector, angle type lugs are also available in specialty UL94-VO material. (Aluminum Connectors) as part of the MRO usage 30-200A angle type line, the 60A connector is still commonly used today. Other lines such as Maxgard should be used for change out when possible.


Maxgard to 4P5W 30Amp
For DP/Computer System Applications, a special Maxgard polarization reflects DP installations. Special thermoplastic housing and back handle are supplied for these applications. Use wherever 4P5W installations are required.


IEC IP67 to 4P5W 20Amp to 100Amp
Thermoplastic international standard 309-2 or CEE-17 type connector lines usage is growing, especially in OEM, export and standard performance applications. The IP67 style is watertight when mated and directly interchangeable with other manufactures. International designations shadow U.S. ratings: 20/16, 30/32, 60/63 and 100/125. IP67 devices have screw collars on flap/screw covers, with catalog number "W" or "WW" suffixes.
No products have been assigned to this category.

Back