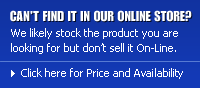 Drives
Beck Electric Supply sells both AC Variable Frequency Drives (VFD's), DC Drives, Drive Controllers and the related renewal parts and components associated with these units. Beck Electric Supply is a franchised distributor for many of the most widely know and well regarded drive manufacturers in the electrical industry.
Specific drive packages can be engineered and built to your particular specifications. We have the necessary experience and factory relationships to make your custom requests a reality.
Whether you are looking for a small AC VFD or a large engineered AC or DC drive, Beck Electric Supply can help you with all the drive needs for your project. We are happy to report that we not only sell new drives but factory remanufactured drives as well (these generally are much more cost efficient than new units and typically come with a standard 18 month factory warranty).
Drives are used on a greater and greater number of motor applications because they add such great versatility and efficiency. Both AC and DC drives enable the user to have far more flexibility with his equipment than ever before. Since drives enable motor applications to be so efficient, they are invaluable from a cost savings and energy budget standpoint.
A drive controls the speed, torque, direction and resulting horsepower of a motor. A DC drive typically controls a shunt wound DC motor, which has separate armature and field circuits. AC drives control AC induction motors, and like their DC counterparts also control speed, torque and horsepower.
Beck Electric Supply is interested in total order fulfillment and wants to make sure you get the right product at the right price in a timely manner. Please contact our sales department regarding any of your drive requirements, we will gladly check our full inventory and place a special factory order on your behalf if necessary.
Browse these categories under "Drives"