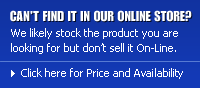 Floodlights





Beck Electric Supply is pleased to stock more specialized lighting fixtures than any electrical distributor in North America. Our primary area of expertise is rough service marine and industrial lighting products for your most demanding applications. We have aligned ourselves with many highly regarded lighting manufacturers and we are committed to stocking the products you are looking for. We specialize in stainless steel, bronze, powder coated and copper free aluminum fixtures in HID, fluorescent, quartz / halogen, incandescent and LED configurations.

Please contact our inside sales staff if you have any questions or inquiries regarding any of our lighting products.


Browse these categories under "Floodlights"