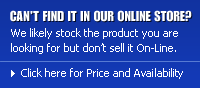 Industrial

Industrial grade connectors are built to be more durable than standard
residential devices. They are built to withstand higher impact and greater heat
levels, resulting in a product that is more reliable and has superior performance.


Our Shop Online web section only has a few of the connectors that we stock.
Please call if you do not see the product you are looking for and our experienced
sales staff will gladly check our full inventory for you.
Browse these categories under "Industrial"