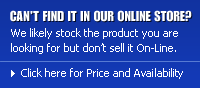 Motors

Superb Quality: In addition to incorporating quality materials, each Siemens motor undergoes more than 100 separate quality inspections at the factory before it's good enough to be offered to you. Personal involvement and responsibility help put the extra reliability in Siemens motors. ISO 9001 certification assures our promise to you.


Outstanding Support: Siemens prides themselves on in-stock availability. Their service center in Little Rock, Arkansas has the technical expertise, dedication to customer service, and modification capabilities to keep you up and running. We at Beck Electric Supply can help you with the most demanding application problem and turn it into specifications that you can work with.


The Complete Solution: Complete solutions rely on comprehensive product lines. Siemens motors are an intergal part of a vast array of industrial variable speed drives, control and automation products, switchgear, motor control centers and power distribution equipment.
No products have been assigned to this category.

Back