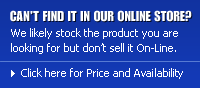 Galley / Food Services Equipment












Over the decades Beck Electric Supply has supplied just about everything imaginable to our maritime and commercial customers. As the West Coast's largest maritime electrical distributor, we have spent countless hours troubleshooting shipboard applications. Because of the nature of the sea and the unique challenges it presents, we have adapted our product lines to meet the specific needs of our maritime customers.



Galley equipment is no exception.....over the years Beck Electric Supply has helped keep a lot of seamen satisfied and refreshed by outfitting their watercraft with the finest ranges, fryers, griddles and ice makers.



Our primary galley cooking line is Lang and we are proud to be a distributor for this premier manufacturer. Beck Electric Supply is pleased to offer specific Lang galley equipment packages for the Cruise Lines, Container Ships, Workboats, Navy and Oil Rig applications.



Please give us the opportunity to quote on your food service equipment and parts needs "Remember" our outside sales team is always happy to come aboard your West Coast vessel and take a personal look at your application.
No products have been assigned to this category.

Back