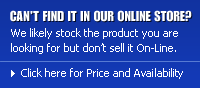 Repair

Thruster Repair

Our in house service company Dahl-Beck Electric is the only Bubenzer / EMG / Eldro authorized thrust actuator repair facility in the Western United States. Dahl-Beck Electric technicians are often able to repair / overhaul your broken thruster using factory seal kits and components. Sometimes a new thruster which meets your exact specifications is not available in the United States. In such cases the thruster must be manufactured and shipped from Germany which can take 6–8 weeks. Long lead times can be very expensive in equipment "down time" which makes the repair / overhaul option look very attractive. The repair process usually only takes a few days because we stock most of the seal kits and common components required for repair. A thruster repair / overhaul generally costs between 50 and 60% of a new unit. Please ship us your non-functioning (crated) thruster and we will give you an estimate for repair.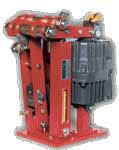 Bubenzer
Industrial braking applications have been utilizing Bubenzer Bremsen brake systems since the late 1950's when Ernst Gerhard Bubenzer put together his first business plan. Since then, with over 40 years of in house R&D, Bubenzer Bremsen has become a worldwide leader in state of the art industrial brake systems. Bubenzer specializes in brake systems for container cranes, mining, steel mills and wind turbines. Each component part of a Bubenzer Bremsen brake system is manufactured using the finest components and raw materials. In recent years many companies have tried to reverse engineer these systems with little long term success. When inferior materials are used in these "knock-off" units, it greatly shortens the life span and long term effectiveness of the brakes.
Disc brake calipers SB23/28
Disc brake calipers SB8
Flexible couplings and hubs (type SB, type K)
Hydraulic caliper disc brake BSC + SF
Disc brake SB17 M/P
Drum brake EBN
Rail clamps BSZ
Brake pads

The increasing demand for higher drive performances combined with short response times and very long service life necessitate more and more innovative solutions. The well-established Eldro thruster with its renowned operating features can meet these high demands also when operating in combinations with a modern disc brake.
Features
Eldro thrusters through their electro hydraulic mechanism, their suitability to integrate into brake systems and simple electrical commissioning procedure, offer the following advantages to a wide range of applications.
High reliability
Long service life with minimum maintenance due to low wear operation under continuous self lubrication
Soft and smooth operation due to the hydraulic principle
Fast response (short regulating times)
High switching frequency: up to 2000 cycles per hour
Reversing operation without restrictions
Simple installation and dismantling
No reversing contactors required as the motor may rotate in either direction
Overloading during operation not possible
Suitable for adjusting length of stroke from outside as required
Universal applications also in hazardous areas in which there is danger of explosion
EMG Eldro (Thrust Actuators) Type
Short-stroke units
Ed 23/5
Ed 30/5
Ed 50/6
Ed 80/6
Ed 121/6
Ed 201/6
Ed 301/6
Long-stoke units
Ed 50/12
Ed 80/12
Ed 121/12
Ed 201/12
Ed 301/12
Ed 185/16
Ed 301/15
Ed 350/20
No products have been assigned to this category.

Back