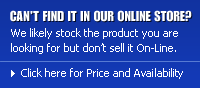 Cam Connectors
Beck Electric Supply is your one stop shop for CAM type connectors on temporary electrical power distribution applications. These single pin connectors are used for entertainment events, theme parks, movie making, theatrical products, carnival equipment, exhibits, concerts, conventions, motors, generators, mining, construction sites, commercial ship building, ship repair, ship to shore in line splices and dockside power.

Beck Electric Supply has a huge inventory of CAM connectors in all sizes, shapes, and colors on our shelves and ready to ship. Please call our inside sales staff for pricing and any application question you may have.




Browse these categories under "Cam Connectors"