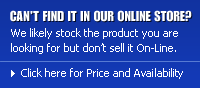 Transformers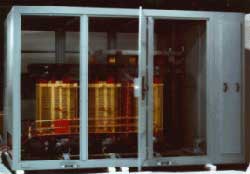 VPI Ventilated Dry Type Transformers
GE ventilated dry-type transformers are designed for indoor or outdoor applications in schools, hospitals, industrial plants, commercial buildings and anywhere that safe and dependable power are important considerations.
Features and Benefits
Round or rectangular, multi-conductor barrel or sheet conductor windings.
Mitered and step-lap construction cores.
Full capacity taps on high voltage windings to provide means for variations for incoming voltage.
220C insulation systems that provide fire resistant, high dielectric capability.
Lowest first-cost industrial transformer technology available.
Low total ownership costs.
Weighes less then other transformer technologies of similar ratings.
Indoor installations do not require a liquid confinement area, automatic fire extinguishing system or fire vault which may be associated with liquid-filled transformers.
Standard Ratings
GE has a full range from 500 to 10,000KVA.Primary voltage from 2.4 to 35kV.


Commercial Pad-Mounted Transformers
GE three phase pad-mounted and single phase pole-mounted transformers are a safe and effective way to provide power distribution to residential, commercial, industrial, and institutional loads. GE COMPAD transformer distribution units are designed in neat, clean, and modern packages to meet your power distribution needs.


Features and Benefits
GE Six-Sigma corporate wide quality initiative ensures quality design and manufacturing
Superior insulation and sealing systems
Transformers meet and exceed ANSI / IEEE test standards C57.12.00 and C57.12.90 and other international standards.
Transformers have a sealed-tank oil-preservation system in which the interior is sealed from the atmosphere
Competitive lead-time in the industry
Flexibility to design to your economic models
Applications
Industrial, Commercial, Institutional, Government Applications
Small and Medium Commercial Fast Food & Strip Malls
Large Retail Stores
Wind Farm Turbine Step-Up
Product Scope
GE three phase padmount transformers are rated from 75 kVA up to 5000 kVA with high voltages ranging from 2,400 up to 34,500 delta or wye. The low voltage ranges from 208Y/120 through 24,940Y/14,400. The available Temp Rise is 55/65°C or straight 65°C.
GE single phase polemount transformers are rated from 167 kVA up to 500 kVA with high voltages ranging from 2400 up to 34500 gnd wye. Low voltage of 600 Volts and below . The available Temp Rise is 55/65°C or straight 65°C.
No products have been assigned to this category.

Back