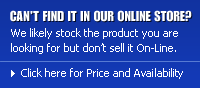 Twistlock / Straight Blade Information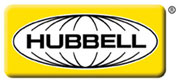 Most people in the electrical business are aware of Hubbell's reputation for manufacturing the finest wiring devices using the best materials. By adhering to such high quality standards, the end user is able to enjoy the safest product in the industry for the longest period of time. Beck Electric Supply is proud to have a great relationship with Hubbell. We stock their product on our shelves and would be pleased to answer any of your Hubbell questions.



INSULGRIP® Plugs and Connectors
15 and 20 Amp plugs & connectors product features:
Individually molded face for each blade configuration keeps debris out of the plug interior.
Roomy wiring chamber provides ample space for wiring.
Individual wiring terminals completely enclosed in their own separate chambers.
Powerful off setting cord grips clamp on individual conductors and outer cord jacket to prevent strain on terminals.
Ribbed nylon housing is impact and chemical resistant.
Beveled housing prevents snagging when dragged across uneven surfaces.
Straight Blade Receptacles
Heavy duty duplex and single receptacles product features:
One piece brass mounting strap
Reinforced thermo plastic polyester base
Patented "by pass" power contacts
Brass center rivet
Exclusive external wiring clamps: #8 brass terminal screws
Impact resistant nylon face
TWIST-LOCK® Devices
TWIST-LOCK® plugs and locking receptacles:
15A, 20A, 30A
2-Pole, 3-Wire
3-Pole, 4-Wire
4-Pole, 5-Wire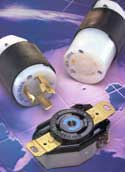 On the high impact nylon face of each Hubbell TWIST-LOCK® receptacle is a ring of color. Keyed to an internationally recognized color coded scheme, this ring enables devices with identical voltage rating to be matched quickly. The terminals in each Hubbell TWIST-LOCK® receptacle are mechanically and electrically the finest available. These terminals incorporate unique design features to contain and hold conductors, including an external back wiring wraparound clamp, a wire restraint recess and more. The all brass mounting system provides a safer, low resistance ground path than those made of steel. The thick wall base is constructed of an engineered thermoplastic to offer the benefits of a thermoset, yet with much greater impact resistance. Long after most conventional TWIST-LOCK® receptacles have weakened and allowed the cord to slip. The Hubbell INSULGRIP® retains its strength INSULGRIP features an offset cord gripping design that actually clamps the conductors, not just the cord jacket. The nylon body and housing are resistant to industrial chemicals, solvents and hydrocarbons. The front of each plug is molded to its specific blade configuration. Leaving no holes to invite debris or contamination.



Safety - Ground Fault Circuit Interrupting Products
CIRCUIT GUARD® heavy-duty, GFC1 duplex receptacles product features:
Pre-stripped leads for fast installation
Impact resistant nylon face for abusive environments
Pretensioned ground contacts for superior ground blade retention
Tandem modified by-pass power contacts increase spring characteristics for greater contact forces and lower operating temperatures.
Color contrast band around reset button for positive indication.
All glass PC board provides superior moisture immunity for longer life in humid environments.
Conformal coating on PC board for additional moisture immunity Feed through protection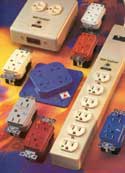 Safety - Surge Suppression Products

Heavy-duty GFC1 receptacles
Commercial duty GFC1 receptacles
Plug-in GFC1 products
Portable GFC1 line cords
Spider system (temporary power distribution)
Isolated ground receptacles
Surge suppression receptacles, strips and plug-ins
Hospital Grade Products (15A, 20A, 50A, 60A, 125V, 250V)
To qualify for the "Hospital Grade" designation, and its green dot symbol, U.L. requires first that the manufacturer design its devices to perform to specified levels. Hubbell sets their standards high. Each Product is built to withstand the severe conditions of abuse that are unique to the hospital environment.
Hospital Grade Receptacles
Straight blade duplex receptacles 2P 3N
Straight blade 4-plex, style line receptacles 2P3N
Straight blade compact duplex and single receptacles 2P3N
Straight blade special purpose duplex receptacles 2P3N
Straight blade plug
Straight blade connector bodies
Hospital use Hubbell lock system
Hospital use explosion proof Hubbell lock system
HUBBELLOCK® mobile x-ray devices

Hospital grade duplex receptacle product features:
One-piece nickel-plated brass mounting strap
Reinforced thermoplastic base
Nickel-plated brass power contacts
Silicon bronze center rivet exclusive external wiring clamps
Large silicon bronze terminal screws
Thermoplastic polyester face
Stainless steel mounting screws
No products have been assigned to this category.

Back