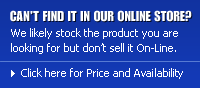 Unarmored Cable Information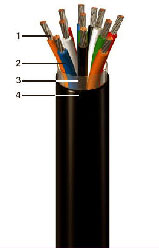 Flexible Multi Conductor Control Unarmored, 14 AWG, 12 AWG & 10 AWG
600V/1000V
Product Construction:
1. Conductor:
14 AWG thru 10 AWG soft annealed tinned copper flexible strand
2. Insulation:
Polyrad® XT-125 Irradiated Cross-Linked Polyolefin (XLPO)
Color Code: Per IEEE 1580 Table 22
3. Cable Core:
Cabled with fillers when required
Core binder tape when required
4. Sheath:
Black Irradiated Cross-Linked Chlorosulfonated Polyethylene
5. Print: (Including but not limited to)
MORâ"¢ POLYRAD® XT-125 (UL) E85994 BR782 110C XX/C XXAWG OR TC-ER1 XHHW OR (CSA) 245/1309 FT4 –40C 600/1000V OR 600V RW75 XLPE TC OR IEC 1KV 60332.3A IEEE 1580 TYPE P OR (ETL) 109229 YEAR OF MFG SEQUENTIAL FOOTAGE MARK 1 ER for 3 conductors or more
Applications:
On offshore oil and gas drilling platforms, ships and FPSOs.
Land-based oil and gas drilling rigs.
Suitable for use in Class I, Division 2 and Zone 2 environments.
Features:
Meets NEK 606 mud oil resistance requirements including ester-based muds
Meets UL 2225 crush and impact requirements of Type MC-HL cables
Permitted for Exposed Run "ER" (open wiring) use in accordance with NEC for 3 conductors or more
Flexible stranding to facilitate ease of cable installation and termination
Temperature rated @ 125°C for long life, higher ampacities and protection from thermal overloads
Meets cold bend test at -55°C
Meets cold impact test at -40°C
Compliances:
Industry:
API-RP14F
CSA C22.2 No. 245
Type X110
IEEE 1580 Type P
IEC 60092-3
NEK 606 for mud oil
resistance
UL 1309 Type X110
UL Listed 110°C Marine Shipboard Cable
Flame Test:
IEEE 383
IEEE 1202
IEC 60332-3-22 Cat. A
(supersedes IEC 60332-3A)
CSA C22.2 No. 0.3 FT4
No products have been assigned to this category.

Back